Sell to thousands of customers and
increase cash flow
Autozilla for Sellers (Distributors & Retailers)
The easiest way to sell parts & accessories online
Easy ordering platform
On Autozilla connect to thousands of buyers who can discover parts on your platform and place orders online. Suddenly your business grows at a pace you never ever imagined.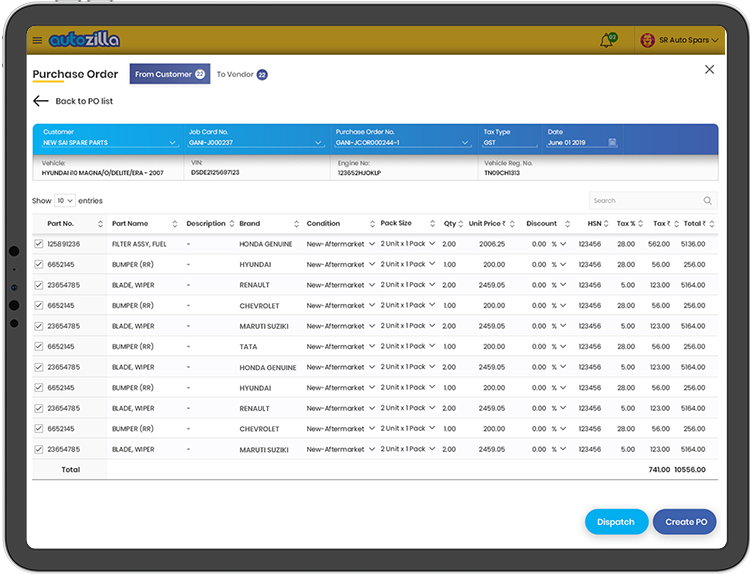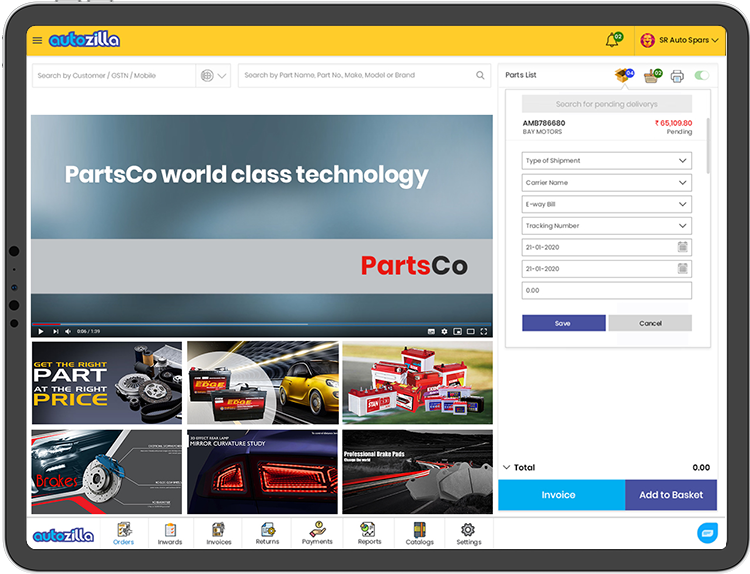 Order fulfilment
Set up an order fulfilment system for your business with Autozilla. It helps you to simplify work flow, fulfill orders faster, track consignments and gain customer trust.
Platform enabled for multi channel sales
Autozilla has the flexibility to handle all kinds of buyers, be it walk in customers, retailers, multi-brand garages fleets etc. Search required parts, generate estimates or invoices and just sell.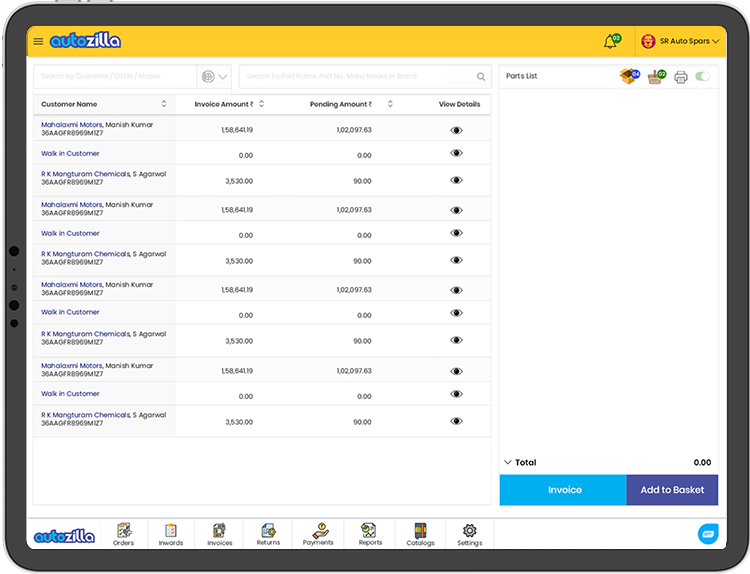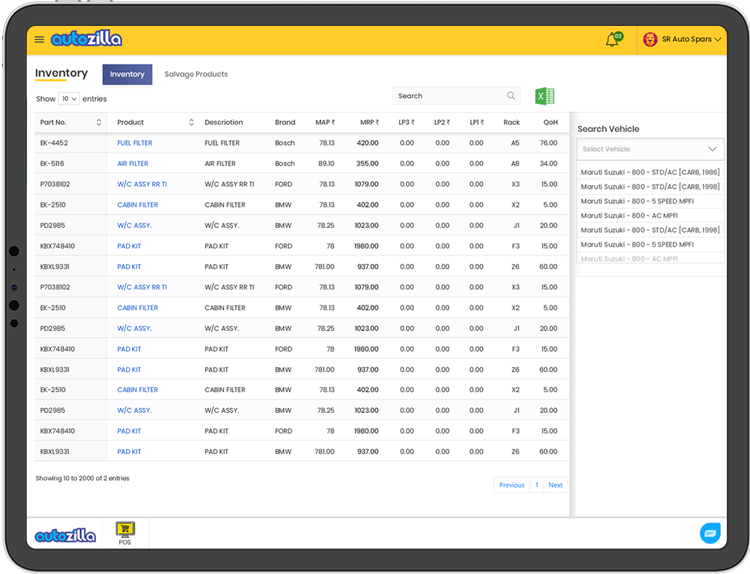 Manage inventory efficiently and control leakage
Inward your purchases and keep a hawk's eye on the inventory. Never again let anyone in your staff sell parts without accounting for it. Become efficient and make more profits now with Autozilla.
Quick part identification
We publish accurate part information, so that you provide right parts to your customers. With a directory of more than 2,00,000 preloaded parts (and growing), you will only see happy customers.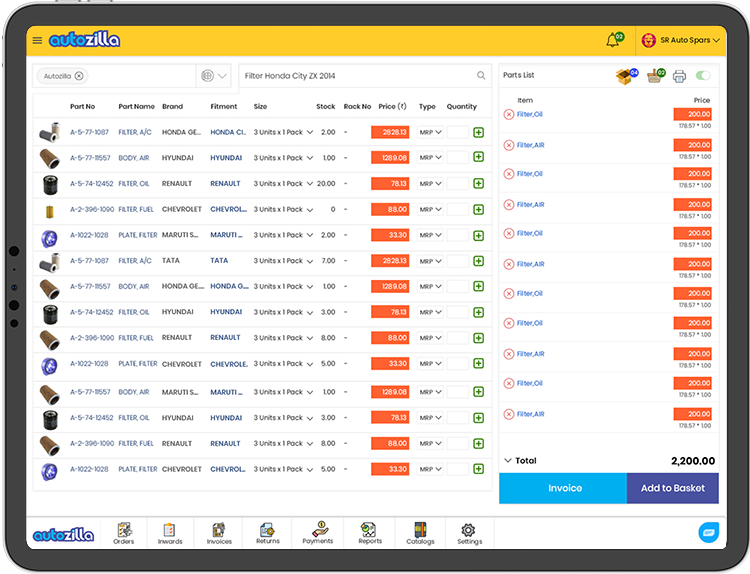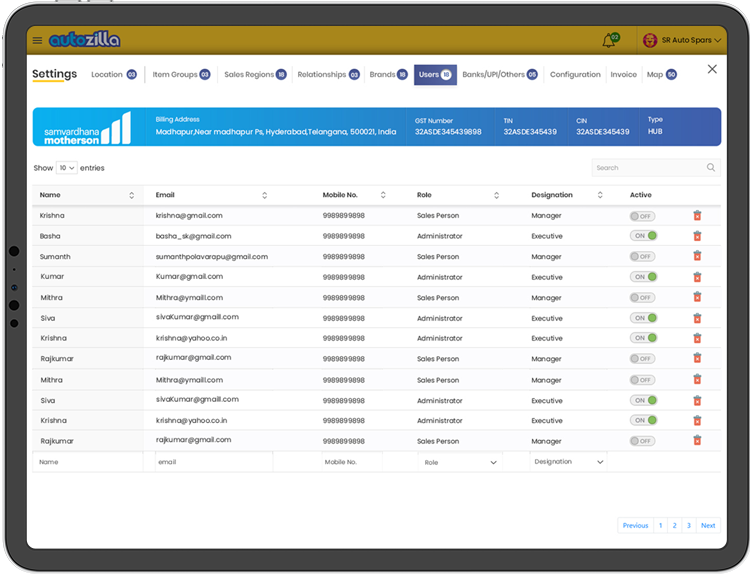 Organise your field sales team
Assigning territories and targets to field sales team is so much easier on Autozilla. Track and manage your team performance on a real time basis.
Provide quick quotations
On Autozilla, you can build custom quotes while on the phone, and then email the quote to the prospect with a link that makes it quick and easy for them to buy online.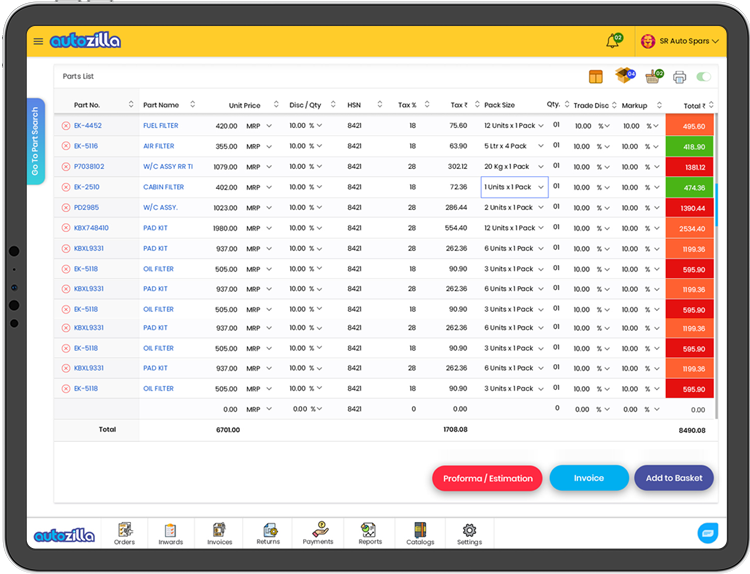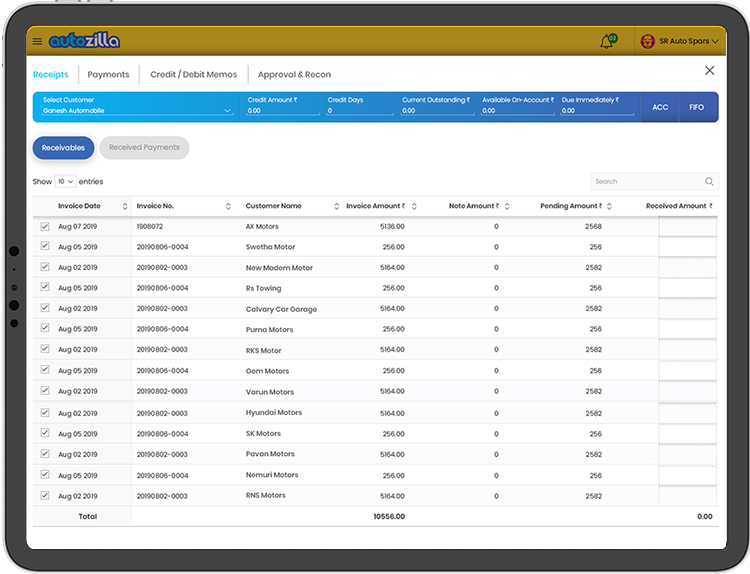 Track payments and collections
Don't let the fear of untimely payments stifle your growth. Assign credit limits, set timely reminders for collections, and cheque deposits. Stop revenue leakage and set your cash register ringing.
Customise offers for buyers
Each customer's business potential is different. You would want offer something customised to each. On Autozilla, categorise customers and offer them discounts to harness the full potential of your customers.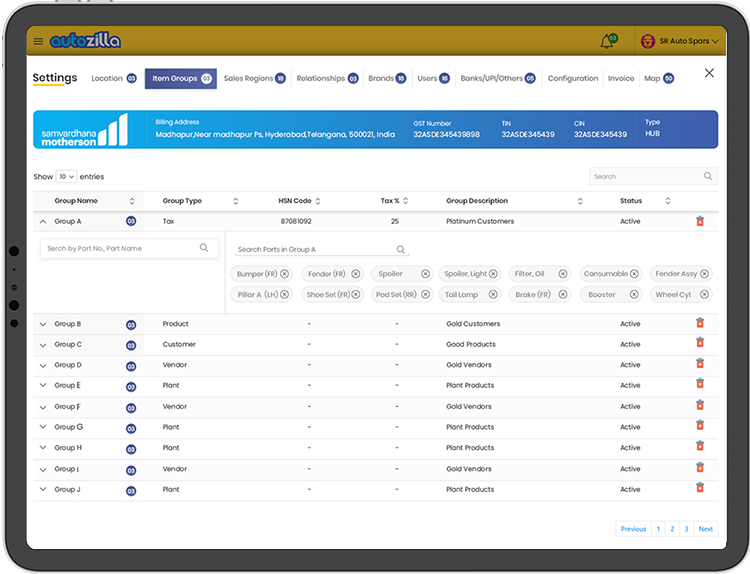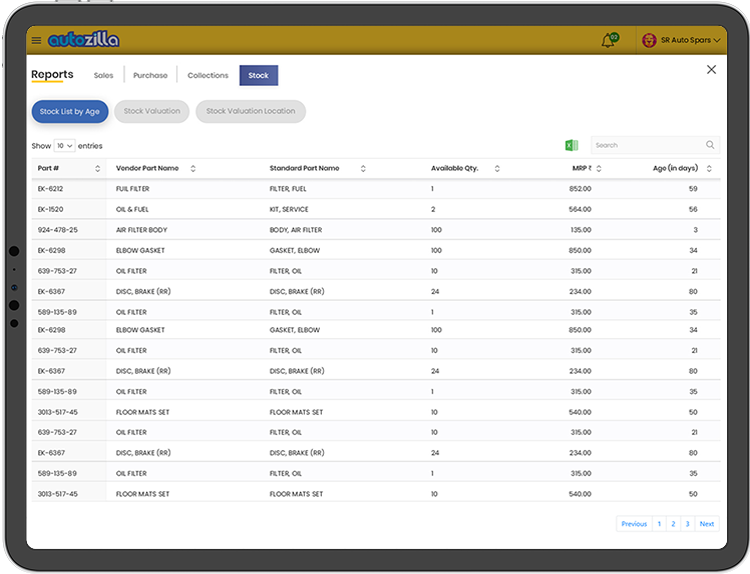 Clear out aged and obsolete inventory
That dead inventory in your premises burns a hole in your pocket. Autozilla allows you to promote and market your dead inventory to prospective buyers on the platform. Turn dead inventory into cash and improve your working capital.
Increase sales efficiency
Empower your sales team to accomplish business goals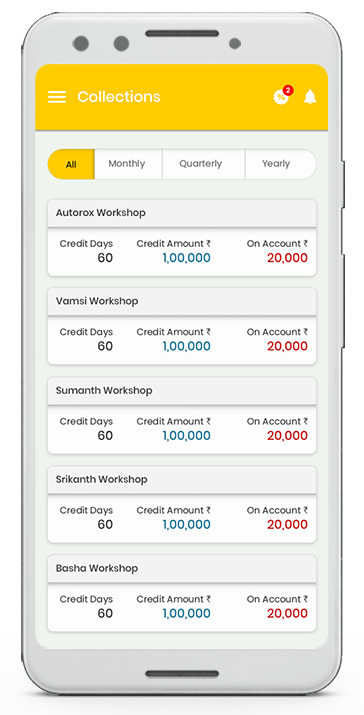 Check Collection status of customers
Using this single window salesman can plan his sales and collections and improve his productivity. No dependency on the backend team for data.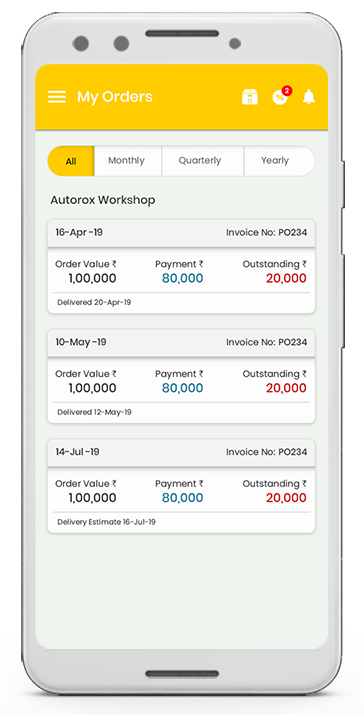 Get a detailed view of all invoices and outstanding for a customer
Salesman can dig out the complete invoice and payment history of a customer during customer interaction. Perfect recipe for an effective sales call.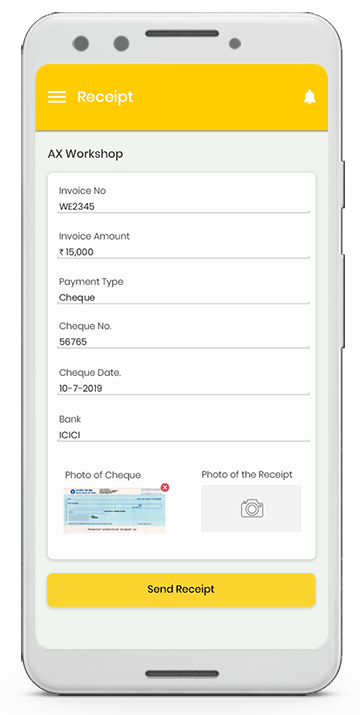 Online Receipt generation
All receipts are generated at the time of payment and updated. No manual receipts, no fraud, no customer denial.
Check availability and generate invoice Online
Salesman can just confirm the parts availability online, confirm the order and generate an invoice. Complete freedom from manual work.
Autozilla POS is the one and only Point of Sale built and designed exclusively for the automotive industry.  Being in the automotive induystry for over 2 decades and understanding the pain points of the industry. Autozilla POS was built with an intention to digitize and transform the spare parts procurement industry. 
Autozilla POS is a one-stop solution for Spare Part Vendors, Distributors and Retailers. We enable a digitized platform for your business with which you get access to 1000's of garages all over India and can start selling to them immediately.  
Are you ready for the new age transformation?
Remember 20% of your customers are responsible for 80% of your growth
Better reputation means
better business
Autozilla is empowering spares businesses. By enabling digitisation of the highly fragmented auto aftermarket service providers, expect fewer supply chain bottlenecks, transparent pricing and happy customers.
Deliver a 'wow' experience
Spare part buyers want a hassle free solution to buy parts. With a cloud platform, modern designs, multiple ways to search, make & model verification, right fitment information and digital OES catalogs, we have the secret success formula for you!
Rekindle your passion
Remember, after all, why you started your business. Rediscover your passion for growth with the most modern technology and remain ahead of others. Transform your business for your next generation and enable their success.
Are you a Vendor looking to digitize and increase your sales?
Then you are at the right place!
Sign up on Autozilla and start selling to 1000's of garages all across India!